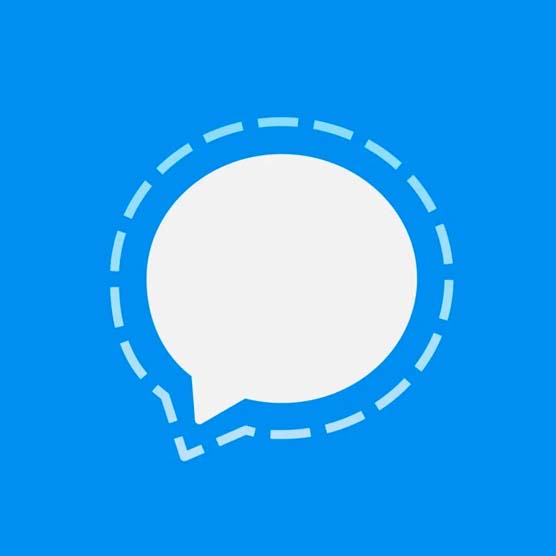 Signal
PROS
Fully encrypted text messaging to and from Signal users.

Free to download.

Text, voice, and video calls are available.

Signal messages don't count towards your phone plan texting limit.
CONS
Fewer users and features than competing apps.

Limited features for desktop users.

Messages to non-signal users are not encrypted.
Screen Shots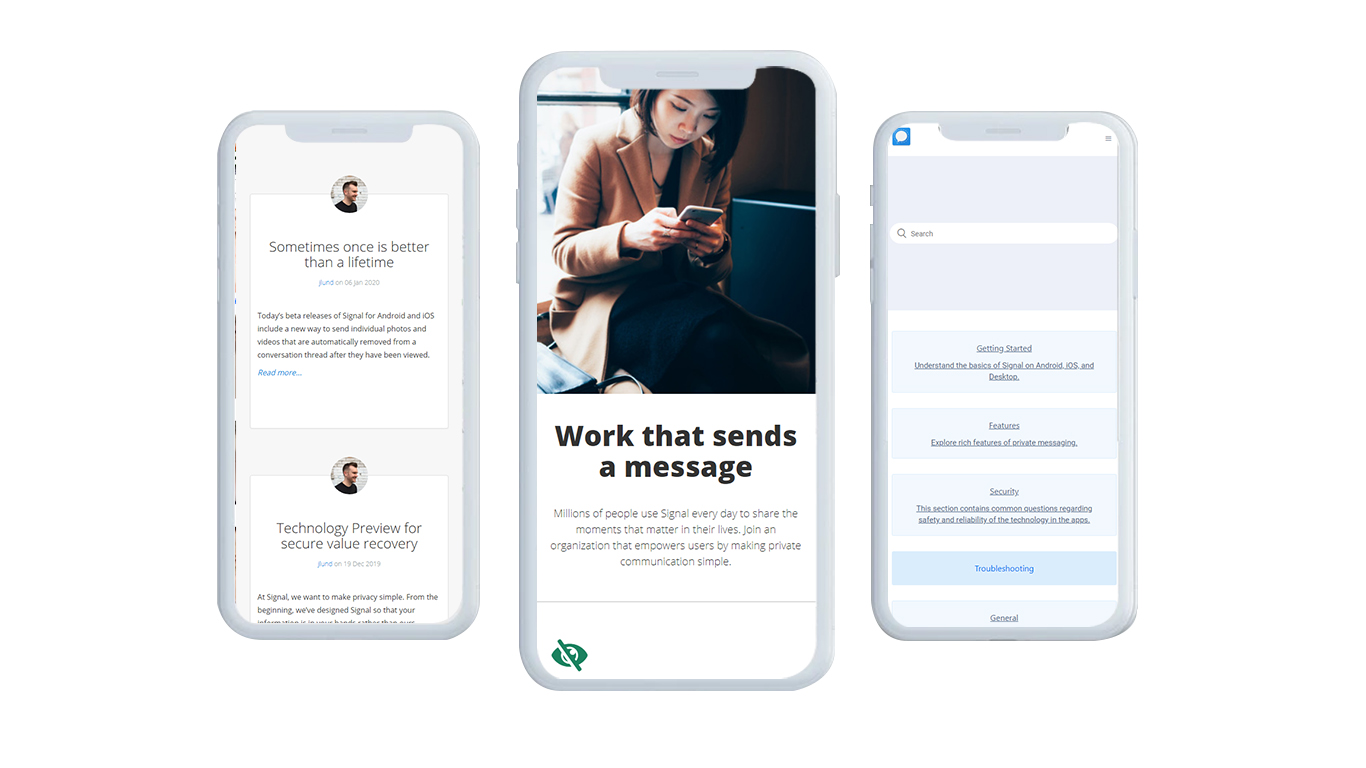 Sites like Signal
Is Signal Good for Sexting? Read Review
What is Signal
Signal is an app for iPhones and Android phones that essentially replaces your phone's SMS texting app. Signal is one of the most secure texting apps available with end-to-end encryption for users texting from the Signal app. Text messages sent to non-signal users will not be encrypted but the app makes sure to notify users whenever a message is not secure. 
Sexting has become an incredibly popular way to flirt and have fun but many people aren't aware of the safety issues associated with the activity. When you text from your normal smartphone texting app, you run the risk of being hacked. As you can imagine, if you're sexting, the last thing you want is for your private photos and sexts to be intercepted. That's why it's extremely smart to use a secure texting app for this activity. Signal is one of the best apps to use for security because they store such a small amount of your personal information.
You can also make voice calls using the app if phone sex is what you're interested in. Signal has created a simple way to ensure that the person you're talking to is who they say they are. When you make a call to a signal user, both callers will be sent a random phrase. If you're uncertain the person is who they claim to be, just ask them to confirm the phrase to set your mind at ease. 
Signal is totally free and doesn't have any in app purchases. If you want an app to use for sexting, sending nudes, or phone sex that is completely private and secure, Signal is one of the best options out there. Make sure your sexting partner is also using the app to ensure that your messages are fully encrypted. 
How it works:
Signal is fairly straightforward to use. After you download the app you're going to want to sync your contact list with the app so you can easily start texting. You can invite your sexting buddy to download the app by sending them a link. To do this, go to your settings and click on "invite your friends." This lets you send an invite to your friends via text or email. Remember, while it's possible to send texts from the app to a regular texting app, it's best to use Signal with other Signal users for full security. 
Signal has end-to-end encryption which means total security for all of your sexting activities. A lot of apps claim to be encrypted but they don't explain what that really means. Messages that are not encrypted can be intercepted while they're on their way to the sender. With a fully encrypted texting app like Signal, your messages are protected with a key that can only be unlocked by the intended recipient.

Pricing
The signal app is completely free to download and use. There are no in-app purchases so it's really one of the best apps out there for secure texting. 
How to Join
Visit the iOS app store or the google play store. 

Download the app on your phone.

Agree to the terms.

Enter your phone number.

Use the app to text your contacts.
Cool Features
Notifications: With texting apps, it's important to be able to adjust your notification settings so that messages don't pop up on your screen unexpectedly. Signal lets users control what shows when you receive a message within the app. 
Privacy Settings: When you go to your privacy settings you can customize the level of privacy within the app. You can decide if you want to use typing indicators that let your texting partner know when you're typing. You can also enable screen lock on the app. This means you can unlock Signals screen using touch ID, face ID or a passcode. You can enable screen security so that previews from texts don't appear. There are quite a few more privacy settings that you can use to adjust the level of security on your app.
Night Mode: If you've ever been up late texting or sexting, you know how harsh the bright phone screen can be. On Signal you can enable night mode to change the color scheme to a darker one. This setting is much easier on the eyes when your texting in the dark. To enable this mode you can press the crescent moon symbol in the upper right-hand corner of the screen.
Video Chat: You're not limited to texting on this app. Signal also lets users make phone calls and video calls using the app. Just be aware that phone calls will use data from your phone plan rather than your voice minutes.
Read Receipts: Read receipts let the recipient of your message know when you've read their message. This is a feature that people either love or hate, but if you love it, Signal has got you covered. 
Cancellation
Visit the settings page on the app. 

Click the large red button that says "delete account."

Click "proceed". 
Overall Opinion
There's really nothing bad about this app if you're looking for a safe, secure way to sext and video chat with other users of Signal. Using a fully encrypted texting app is the smartest way to sext and if you're worried about your personal information getting hacked you should be using this app. The extensive privacy settings let you really personalize the app to your own needs. With a free download there's no reason not to get the app and start sexting.