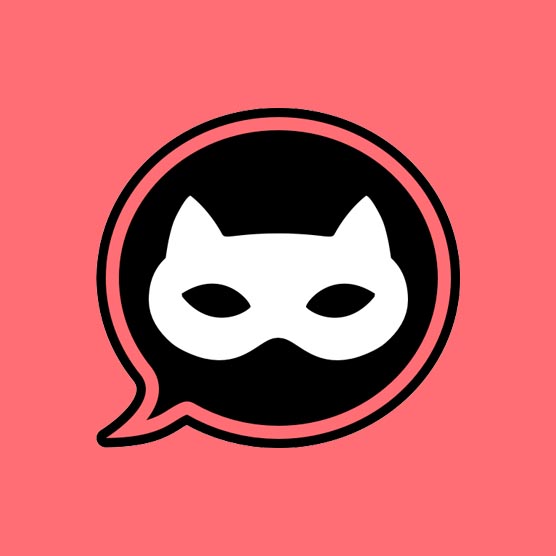 AntiChat App
PROS
It's free to sign up.

You remain anonymous.

Chat with people globally.

Personalized profile.
CONS
The webpage can be hard to navigate.

Complex points system.

Strict rules.

Users can get banned.
Screen Shots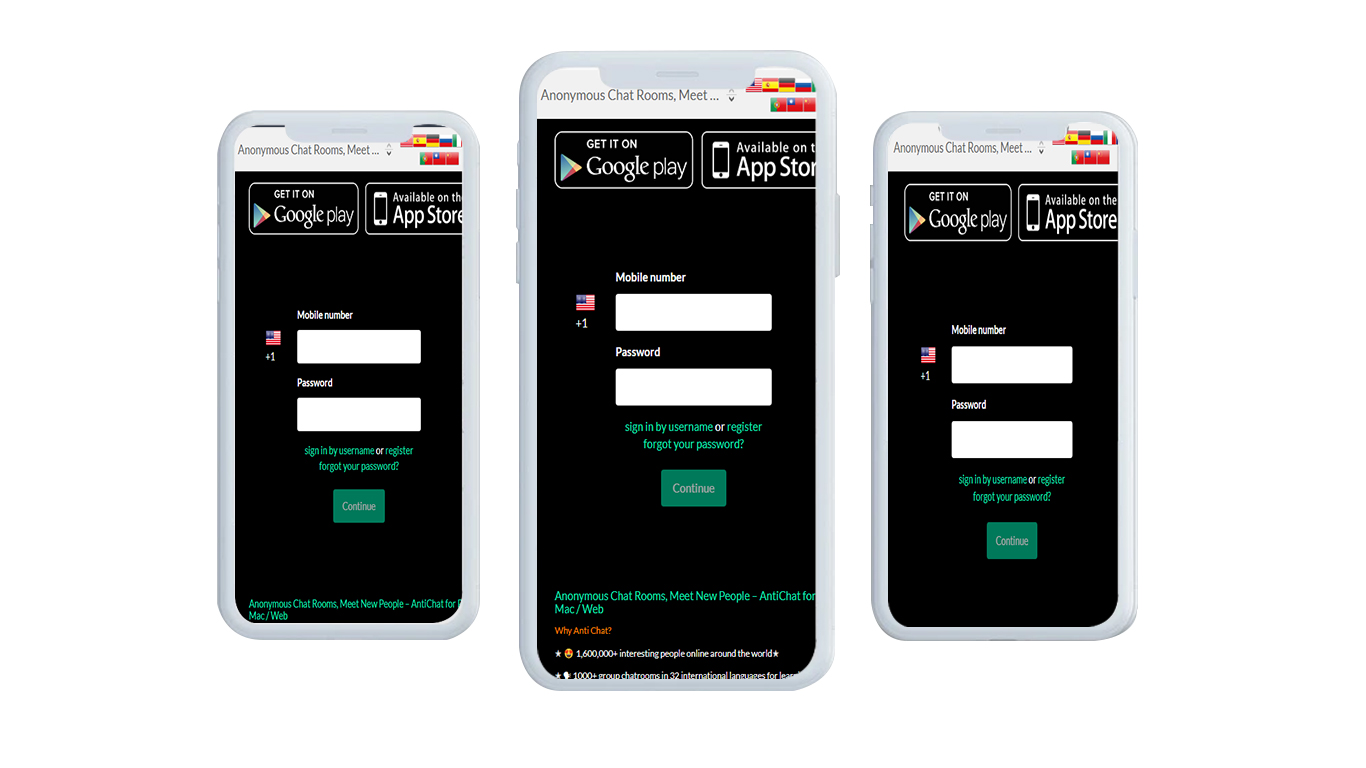 Sites like AntiChat App
AntiChat App: Anonymous Stranger Chat Review
What is it AntiChat?
AntiChat is a website and an app that features chatrooms in which users can stay anonymous. AntiChat focuses on giving users a place where they can feel free to express themselves securely. No more worrying about revealing their identity. The website and app have over 1.5 million users, which is a great membership base if you're looking for an active chat room website. Users can engage in chat rooms or message privately with other members.
AntiChat offers over 1000 international chat rooms for its users to check out that are categorized by interest. The website is geared towards people who want to make friends online as well as romantic or sexual connections. In order to start using the website, you can make an account for free by providing a phone number and creating a password. If you prefer using an app, it's available on both Android phones and iPhones for free. This platform offers a huge variety of chat rooms for users to choose from and is easy and free to use.
What it's used for?
AntiChat is used primarily to make online friends and love interests in a completely anonymous way. They provide a space for users to create or join platforms with users from around the world. If you are interested in making online, international connections, this a great option for you. Once you create an account you'll have access to several features.
Features
Public chat rooms
Group chat rooms
Private messaging
Photo sharing
Anonymous sexting
The first feature you'll want to check out is the public chat rooms. Group style chat rooms are in the main menu and are organized by the topic of the chat and the location. Users can also create a new public group chat where you send invites to friends to let them know about it. Since it's mainly a place for users to get to know each other anonymously, they discourage the exchange of personal contact information. So, if you are looking to make real-life, personal connections, this probably isn't the website for you.
The second feature that you'll have access to is private messaging. Users can send private messages to other users where they will receive the message in their own personal mailbox. These are automatically categorized as private conversations. If you're interested in the private messaging feature, you can look at the active online users in a group chat, and send them a message. In both features, the goal is to remain anonymous above all else. The most unique part of AntiChat is that while users remain anonymous, they still get to create a unique profile that allows users to be whoever they want to be.
How does it work?
To create an account with AntiChat, all you need is a phone number, and email verification and to fill out a short questionnaire. During the registration process, you will be asked to create a unique username. During this process, you will also provide your age and gender, as well as the gender of the people you would like to chat with and get to know. Since AntiChat is an international platform, you can also provide any additional languages that you speak to broaden the scope of people you can connect with. While they do ask you to provide a phone number, this step is optional as you are able to access the site after your email has been verified. Once you have created your account, you can access the public chat rooms, as well as send private messages to other users.
After Sign Up
Once you sign up, you'll want to start building our own personal profile. One of the best parts of setting up your profile, and part of what makes AntiChat so fun to use, is choosing your avatar. Since its an anonymous website, you won't ever provide a real picture of your face, so to replace this, you'll choose an avatar to represent you. If you want to customize your avatar you can buy special accessories to dress it up.
AntiChat has a couple of useful features that make it super fun to use. One of these features is virtual gifts that you can send to other users. This feature is awesome if you want to flirt with another user and show them that you are interested in. You can send another user a virtual gift by going to their profile and clicking the button for "virtual gifts." If you want to purchase a gift for them, you'll have to use some of your karma points, which we will go over shortly. The second feature we want to highlight is the "super power" feature. If you choose to purchase this upgrade, your profile visibility will be boosted and other users will now see you at the top of their inbox. This feature will also double your karma earning potential.
What are Karma points
So what is karma, you might be asking? Karma is the point system that is put in place at AntiChat. Utilizing a point system makes this more than just a chat website and adds a fun, game-like quality to the user experience. Users can earn karma points in several ways. Some easy ways to earn karma points is to send and receive virtual gifts, complete tasks given to you by administrators, add valuable messages to chat rooms, and by staying consistently active on the site.
Users with high karma points will only be able to receive messages from users with a substantial amount of karma. On the flip side, you can only send messages to certain users if you yourself have enough karma points built up. As was mentioned earlier, you can also use your Karma points to purchase avatar accessories, virtual gifts and even a free trial of the superpower feature. One thing that you need to be aware of, is that your karma points can be deducted if a moderator flags you for violating the rules. So make sure to play fair!
Why you should use it:
You should use AnitChat if you are looking for a free website or app where you can chat with users from around the world, while staying completely anonymous. This is the kind of platform where you can create an alter ego and be who anyone you want to be.
What to be wary of
Since this is an online chat room with thousands of users on an international platform, you have to stay vigilant and be on the lookout for scammers and fake profiles. On any free chat website, you run the risk of encountering bots and scammers, so just be sure to trust your instinct if something feels off.
Pros
If anonymity is what you're looking for then this is one of the biggest pros AntiChat has to offer. The website is catered to users who want to make connections but keep their personal identity a secret. But what really makes this site stand out is the ability to make a personal profile. With most anonymous chat sites, it's hard to convey your personality but AntiChat gives you the opportunity to express yourself with a profile, complete with a personal avatar. Another pro to this site is that it is free to sign up. While they do offer some upgrades, it's not necessary in order to fully enjoy the site.
Cons
Since AntiChat does offer so many chat rooms, it can feel overwhelming for someone who is inexperienced in the world of online chat. That simply means that you need a little practice! While it may seem overwhelming at first, the vast amount of options will likely be a pro for you in no time. Another potential con could be the Karma system. While it adds a playful aspect to the experience, some users may be put off by a point system and the social structure it creates.
How much does it cost
AntiChat is free to sign up for and free to use. Most features are free to use, but you can upgrade to use more features. All you have to do to become a member is to complete the sign-up process.
Final thoughts
Find online connections with the added security of remaining completely anonymous. This platform is available as both an app for android and iPhone users, as well as a traditional website. Anonymity with users is what makes Antichat stand out. It allows users to keep their identity secret, but also create an online persona that makes each user unique.
There are, literally, a world of opportunities on this website as it is open to international users. It is all-inclusive of language, race, religion, and sexual orientation so there is a space for everyone to feel comfortable. You may find that the point system adds a fun quality to your experience. You can ensure that the people who private message you are just as invested in the experience as you are. If you are looking to make romantic connections on this platform, they have several features that can help you out. The virtual gift feature makes it easy to show other users that you think they are special. There's no reason not to give the app or website a try to see if you like it.